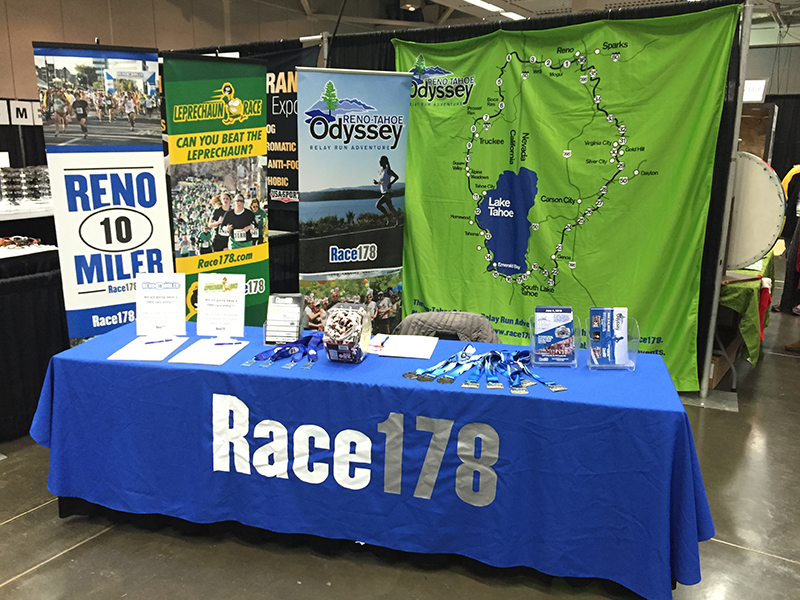 Race178 is a race production company based in Reno. We have been in existence since 2005 when we produced our first Reno-Tahoe Odyssey Relay Run Adventure.
Putting on races is our business. It is what we do full time. We are professional about it. We have been producing events for many years and we have a lot of experience. Most of our participants think we put on good events and they come back year after year.
---
So why do a Race178 event?
It is critical that our participants have a great experience and be safe. Accordingly, we spend a lot of time, energy and money to make sure that this is the result every time.
Because of our commitment to safety, we hire law enforcement. In addition, we set out lots of safety related equipment and signs. We also work with local first responding agencies so they are prepared to handle medical emergencies.
For the Leprechaun Race, Reno 10 Miler and Journal Jog in Reno, we use the streets of Reno for our courses. We use enough of the street (either the whole street or one lane or a bike lane) so that there is plenty of room for our participants to run or walk. We hire Reno police officers to be present and to make sure the course is safe for the participants as well as others. We hire Reno public works officials to set out traffic control equipment so that others see that there is a race going on. We hire REMSA to be present and ready for action. Our participants are not crammed onto sidewalks and then forced to spill out onto streets without proper traffic controls and law enforcement to protect them. Our participants do not have to jump up and down off and around curbs and through landscaping.
We mark the race route a variety of ways to make sure our participants know where they are supposed to go and stay on course.
Our races are typically one distance with every participant following the exact same route. For an event with multiple races of different lengths sending runners and walkers off at different times and in different directions along the course, there is an increased likelihood that participants will get off course.
Our races start on time.
Volunteers are an important part of a race. Accordingly, we recruit a lot of volunteers far in advance of the event. We provide them with plenty of information so that they are educated about the event and their duties. We treat them nicely and with consideration so that they enjoy themselves and have fun. This increases the likelihood that our race participants will have a great experience.
We post results on the same day of the event, often within hours of the finish of the race.
---
There are two other important reasons to choose a Race178 event.
One, we treat our participants as we would want to be treated. We put on an event as if we would be participating in it. We care about how the event comes off. In addition, we treat you with respect. We return your emails. We return your phone calls. We cheer you on at the events. We enjoy visiting with you. We get to know many of you. We do not want to be too big so that we cannot connect with you. Accordingly, we limit the sizes of our fields to a reasonable number (we currently cap the field of the Reno-Tahoe Odyssey). You mean more to us than registration numbers and entry fees.
Two, Race178 is a local company. We are Reno natives. We are Reno residents. Our office is in downtown Reno. We put on many events to showcase Reno because Reno is our hometown and Reno is where we live. Given that we live in Reno, we spend our earnings at other local businesses. We pay local taxes. We pay local license fees. We share a portion of our net proceeds with local non profits. We try to spur our race participants to spend their money at local businesses, many of whom are sponsors of our events or who support our events and the community in other ways. We sincerely want to see Reno succeed and become a better place to live and to visit.
Many events are put on by out of state companies that come to town for a weekend and execute an event here and fail to connect with the participants. They take their profits away to the satisfaction of corporate shareholders and equity fund managers who live in other places. They create few benefits for the local community.
The bottom line is that we deliver what we promise. To our participants. To our sponsors. To our non profit partners. To the government officials with whom we work. To the communities in which our events happen. We have a good track record of coming through to everyone's great satisfaction.