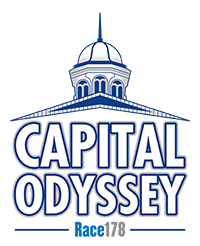 Team Registration
Runner Registration
The Capital Odyssey Relay is a relay from Carson City, Nevada's Capital City, to Reno. This event joins the RTO in progress for the last 12 legs of the RTO.
---
Please be aware that in order to have a safe and orderly event, we need for every runner and team to comply with the rules of the event. The future of these relays will be in jeopardy if people do not follow the rules. Some of the Critical Rules can be found
here
. A team may be disqualified for failing to comply with the rules.
If you prefer to pay for your team by check or cash, please complete and send or drop off this form and include your check/cash to our office.
On June 3, 2023, your team will be running Leg 25 through Leg 36 on the Reno-Tahoe Odyssey course. This is approximately 54 miles. You will start just south of Carson City at the big strip mall where there is a Super Walmart there. This is Exchange Point No. 24 of the RTO course which is the end of Leg 24 and the beginning of Leg 25. You will finish at the Finish Line Festival in Reno.
Start times will be early Saturday morning from approximately 2:45 a.m. to 7 a.m. depending on your team's projected total time to complete this relay.
The maximum number of runners that you can have on your team is six (6). For six (6) person teams each runner will run two (2) legs. For four (4) person teams each runner will run three (3) legs. For three (3) person teams each runner will run four (4) legs. You set up your runner line-up for your team. You should run in the order of your line-up. Race178 does not need to receive your line-up.
The race will be capped at 25 teams.
---
Registration prices
$500 flat fee regardless of whether you have a 6, 4 or 3 person team
Prize is awarded to the top team.
---
Key Deadlines for Teams:
April 1, 2023: Shirt Guarantee – Teams must have all shirt sizes turned in by this date to ensure they receive shirts (sizes are subject to availability).
April 15, 2023: Team volunteers either must be registered for a shift or the volunteer fee must be paid. If requirements are not met by this deadline, there will be an additional $150 penalty. See requirements below.
May 1, 2023: Last time to change team name
May 10, 2023: All online registration will be closed. Runner changes will be handled via email with kelly@race178.com.
---
Captain's swag:
We will continue our tradition of providing each captain with something special. Each captain will receive an official Capital Odyssey Relay captain's pilsner glass along with a ticket for a complimentary lunch at the Finish Line Festival.
---
What everyone gets for signing up:
High quality, attractive and very comfortable technical race shirt (mens and womens sizes).
High quality and attractive race bag of some sort (examples from the past include utility / grocery bag, drawstring bag and lunch bag)
Unique finisher's medal only for Capital Odyssey runners.
Finish Line Festival with delicious food and cold brews for sale along with music and a variety of vendors. This is a very lively scene where runners hang out and swap stories about the adventures that they just experienced and the accomplishment that they just achieved!
A complimentary beer for every runner! Be sure to finish by 4 p.m. when our beer vendors are in full beer pouring mode.
---
Volunteer requirement for local teams:
Each Capital Odyssey team that has at least 3 runners residing within 30 miles of a point along the Capital Odyssey course (that is the last 12 legs of the RTO course) needs to provide 1 volunteer.
There is an online sign up process for volunteers. Volunteers need to use that system to sign up for their assignment. The online module will be ready for use by approximately March 1. Stay tuned for announcements.
Please have your volunteers register through the online process by April 15 OR pay a fee of $90 per volunteer by April 15. We will use those monies to obtain volunteers if necessary, to spoil the volunteers who help us put on the event, and to make additional contributions to charities.
ADDITIONAL FEE: Teams who fail to meet their volunteer requirement by the April 15 deadline will be subject to an additional one-time penalty of $150. Each year we have dozens of teams who do not meet their volunteer requirements until days before the event. This makes putting on the event more challenging than necessary.
Register Volunteers
Pay Volunteer Fees
---
Critical Rules
Critical Rules you need to know before the race
---
Thank you in advance for your consideration and cooperation.