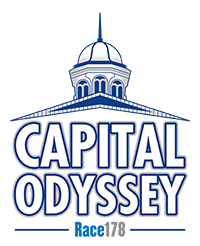 Team Registration
The Capital Odyssey Relay is a relay from Carson City, Nevada's Capital City, to Reno. This event joins the RTO in progress for the last 12 legs of the RTO.

---
Please note that the Capital Odyssey Relay has become a relatively large event. In order to have a safe and orderly event, we need for every runner and team to comply with the rules of the event. The future of these relays will be in jeopardy if people do not follow the rules. Below we set out some of the rules. We will implement a variety of measures to make sure that everyone is aware of these rules and the possibility that a team may be disqualified if a team does not comply with the rules. Stay tuned for more information about this important topic.
On June 3, 2023, your team will be running Leg 25 through Leg 36 on the Reno-Tahoe Odyssey course. This is approximately 54 miles. You will start just south of Carson City at the big strip mall where there is a Super Walmart there. This is Exchange Point No. 24 of the RTO course which is the end of Leg 24 and the beginning of Leg 25. You will finish at the Finish Line Festival in Reno.
Start times will be early Saturday morning from approximately 2:45 a.m. to 7 a.m. depending on your team's projected total time to complete this relay.
The maximum number of runners that you can have on your team is six (6). For six (6) person teams each runner will run two (2) legs. For four (4) person teams each runner will run three (3) legs. For three (3) person teams each runner will run four (4) legs. You set up your runner line-up for your team. You should run in the order of your line-up. Race178 does not need to receive your line-up.
---
Registration prices
$500 flat fee regardless of whether you have a 6, 4 or 3 person team
---
Create a Team
Captains may create and pay for their team in one of the two ways described below:
Option A
Create your team paying the entire entry fee using a credit card. To do so, click on the orange button below. Please note that there is a processing fee.
Once you complete this process, you will receive a receipt which includes your team code. Your team code can be used to "manage your team". Please let your runners know your team is registered and they should register themselves on the team.
Create Your Team Paying With A Credit Card
Option B
Create your team paying the entire entry fee with a check (or cash). To do so, click on the green button below.
You will need to complete the form there. Provide that form and a check (or cash) to Race178. Write the check to Race178. The address for Race178 is 331 E. Liberty Street, Reno, NV 89501. If you prefer, you may drop off the form and the check or cash payment. If you miss us, leave the registration in the locked mail box and email us that you stopped by.
Once you complete this process, we will email you with further instructions for you and your runners.
Form To Create Your Team and Accompany your payment by check (or cash)
---
---
Runner Registering on a Team:
If you are a runner who is a member of an existing team, this is the place to register yourself.
Click the purple button, select "join an existing team", choose your team name, click "validate" and then "next" and you are on your way. Please follow your registration to completion and you will receive a confirmation email.
Runner Registration
---
Key Deadlines for Teams:
April 1, 2023: Shirt Guarantee – Teams must have all shirt sizes turned in by this date to ensure they receive shirts (sizes are subject to availability).
April 15, 2023: Team volunteers either must be registered for a shift or the volunteer fee must be paid. There will be a $150 penalty if requirements are not met by this deadline.
May 1, 2023: Last time to change team name
May 10, 2023: All online registration will be closed. Runner changes will be handled via email with eric@race178.com or kelly@race178.com.
---
What everyone gets for signing up:
High quality, attractive and very comfortable technical race shirt (mens and womens sizes).
High quality and attractive race bag of some sort (examples from the past include utility / grocery bag, drawstring bag and lunch bag)
Unique finisher's medal only for Capital Odyssey runners.
Finish Line Festival with delicious food and cold brews for sale along with music and a variety of vendors. This is a very lively scene where runners hang out and swap stories about the adventures that they just experienced and the accomplishment that they just achieved!
A complimentary beer for every runner! Be sure to finish by 4 p.m. when our beer vendors are in full beer pouring mode. This is extra incentive for your team to complete the relay by 4 p.m. See Time and Pace Maximums below.
---
Captain's swag:
We will continue our tradition of providing each captain with something special. Each captain will receive an official Capital Odyssey Relay captain's pilsner glass along with a ticket for a complimentary lunch at the Finish Line Festival.
---
Cap on number of teams:
Twenty five (25).
---
Volunteer requirement for local teams:
Each Capital Odyssey team that has at least 3 runners residing within 30 miles of a point along the Capital Odyssey course (that is the last 12 legs of the RTO course) needs to provide 1 volunteer.
There is an online sign up process for volunteers. Volunteers need to use that system to sign up for their assignment. The online module will be ready for use by approximately March 1. Stay tuned for announcements.
Please have your volunteers register through the online process by April 15, 2023.
Teams who choose not to provide the required volunteer(s) will need to pay a fee of $90 per volunteer by April 15 instead. We will use those monies to obtain volunteers if necessary, to spoil the volunteers who help us put on the event, and to make additional contributions to charities.
Please be aware that if volunteer requirements are not met by the 4/15/2023 deadline, there will be a $150 penalty per team.
Register Volunteers
Pay Volunteer Fees
---
Here are some of the most critical rules that you need to know:
The volunteer related requirements set forth above.
Vehicles for transporting runners along the course into the runner exchange points cannot exceed 20 feet in length. No big motor homes. No medium sized motor homes. No buses. No limousines.
Runners must follow specific instructions for each leg. This includes crossing busy roads at designated intersections only and running on a particular side of the road.
Team vehicle drivers must follow specific instructions for each leg, including parking in designated parking locations. Team vehicles may not always stop or park wherever they want to do so.
Runners should not use headphones on certain parts of the course. Many relays strictly prohibit the use of headphones. We will allow runners to use headphones only during the last four legs of the course (Legs Nos. 33 through 36). These are legs that runners will be on in the day. Most of the legs are in Reno where sidewalks or bike paths are available. Runners assume all of the risks associated with running with headphones.
Runners are required to wear bright orange or yellow vests with reflective materials from Friday 6 p.m. to Saturday 6 a.m. Runners are highly encouraged to wear these vests at all times.
Runners are required to wear flashing lights from Friday 6 p.m. to Saturday 6 a.m. Runners must wear at least one white light on the front and one flashing red light on the back.
Runners will comply with instructions given by race staff and exchange point volunteers, including to wear reflective vests and flashing lights and to stay off of certain roadways that act as entrances to people's homes and neighborhoods.
Everyone must be quiet in designated quiet zones and otherwise respectful of property owners along the course. Those quiet zones include Exchange Point No. 25 in Carson City and Exchange Point No. 29 in Silver City.
Every runner should diligently train for this running event to increase the likelihood that every runner will be able to run all of his or her legs and every team will be able to complete the event in the maximum time allowed.
Runners will not split legs unless there is an injury or some other significant reason. If runners split a leg, then the teams must comply with the substitution procedures.
Runners who are younger than 18 need to get approval from the race director to participate in the event. Special arrangements may need to be made about certain issues.
Thank you in advance for your consideration and cooperation.