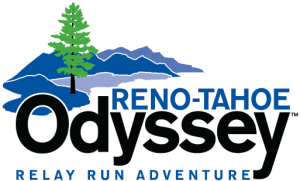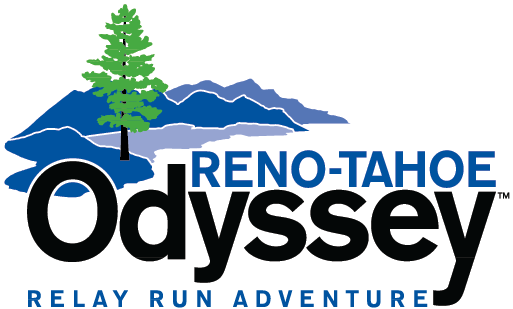 Team Registration
Runner Registration
Below is the information that you need to know to register for the 2023 Reno-Tahoe Odyssey Relay Run Adventure set for Friday June 2 – Saturday June 3.
---
Please note that the Reno-Tahoe Odyssey has become a relatively large event. In order to have a safe and orderly event, we need for every runner and team to comply with the rules of the event. The RTO's future will be in jeopardy if people do not follow the rules. Some of the Critical Rules can be found
here
. A team may be disqualified for failing to comply with the rules.
If you prefer to pay for your team by check or cash, please complete and send or drop off this form and include your check/cash to our office
Registration prices
Below are the entry fees. Please note that there is a cap on the number of runners – approximately 2,600! That is equivalent of approx. 216 teams of 12 runners or a few more if we have some ultra teams with less than 12 runners.
TEAMS OF 12 RUNNERS (12 RUNNERS DOWN TO AS FEW AS 7)
---
$1,800 per team by midnight October 31, 2022
$1,920 by midnight December 31, 2022
$2,040 until sold out
---
Each team must sign up for one division and one category, e.g. Open Mens.
Divisions:
Open – all runners must be 16 or older
Masters – all runners must be 40 or older
Seniors – all runners must be 50 or older
Corporate – all runners must be employed by the same company
Club – all runners must be members of the same club, whether it be a running club, triathletes club, recreation/social club, adventure travel club or some other type of club
Categories:
Mens – zero to five women
Mixed – six to eleven women
Womens – 12 women
Prizes are awarded to the top team in each division and category. To be eligible for division winning prizes, runners must stay in order, e.g. the runner who runs leg no. 1 must also run leg nos. 13 and 25.
---
ULTRA TEAMS (6 RUNNERS OR LESS)
---
$900 per team by midnight October 31, 2022
$960 by midnight December 31, 2022
$1,020 until sold out
---
Ultra teams need to sign up for one of 3 divisions:
Mens – more men than women, typically 4 or more men or 3 men and 2 women;
Mixed – equal number women and men, typically 3 women and 3 men, or
Womens – all women.
There is no requirement to run in a particular order. Some teams rotate every leg, some rotate every two legs, others run the 1st and 4th legs and so forth.
Prizes are awarded to the top team in each division.
---
Key Deadlines for Teams:
April 1, 2023: Shirt Guarantee – Teams must have all shirt sizes turned in by this date to ensure they receive shirts (sizes are subject to availability).
April 15, 2023: Team volunteers either must be registered for a shift or the volunteer fee must be paid. If requirements are not met by this deadline, there will be an additional $150 penalty. See requirements below.
May 1, 2023: Last time to change team name
May 10, 2023: All online registration will be closed. Runner changes will be handled via email with kelly@race178.com.
---
Captain's swag:
We will continue our tradition of providing each captain with something special. Each captain will receive an official RTO captain's pilsner glass along with a ticket for a complimentary lunch at the Finish Line Festival.
---
What everyone gets for signing up: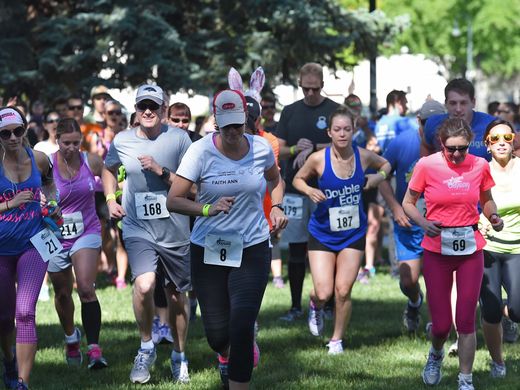 A relay adventure over a 178 mile spectacular course unlike any other passing through two states and touring the scenic, historic and fun filled Reno-Lake Tahoe region, packed with cool places and sights to see including Lake Tahoe, Truckee, Carson City, Virginia City, the Sierra Nevada Mountains and the high desert of Northern Nevada.
High quality, attractive and very comfortable technical race shirt (mens and womens sizes)
High quality and attractive race bag of some sort (examples from the past include utility / grocery bag, drawstring bag and lunch bag)
The famous 178 decals that you see on so many cars in the Reno-Tahoe region and beyond
More decals for the runners who run the epic legs of the RTO course (do you know which ones those are?)
178 tattoos
Finisher's medal
Lots of quality swag for you to purchase including the top of the line trucker and baseball hats from our retail partner bigtruck® in Truckee. See store for more items.
Lively start ceremony with music and introductions.
Finish Line Festival with delicious food and cold brews for sale along with music and a variety of vendors. This is a very lively scene where runners hang out and swap stories about the adventures that they just experienced and the accomplishment that they just achieved!
A complimentary beer for every runner at the finish line party.
Hundreds of other enthusiastic runners with creative team names and shirts shuttling about in decorated vans to share the experience with you and add to your memories, along with many spirited and long-time volunteers along the course.
Free photos.
The opportunity to win the many fun contests: Best Team Name, Best Team Shirt, Best Team Costume, Best Decorated Vans, and Most Spirited Team.
Your Leg 4 runner will compete in the epic Donner's Downfall Leg 4 Time Trial. Fastest man and fastest woman will win a great prize. So will the runner who gets 178th place.
If your team is among the first 25 to register, everyone on your team will get a little something extra.
---
---
Time and Pace Maximums
The maximum time to complete the Reno-Tahoe Odyssey is 33 hours. If your team will need this much time, we will be starting you at 7 a.m. Friday, the earliest start time. All teams must be finished by 4 p.m. the next day. The pace limit is 11 minutes per mile. So your team must average an 11 minute per mile pace for the entire event. PLEASE NOTE THAT THE RTO IS NOT A WALK RELAY. If you are concerned that your team will not be able to complete the course in 33 hours running an average of an 11 minute per mile pace for the entire event, then please sign up for the Capital Odyssey Relay or the Comstock Odyssey Relay.
---
---
Volunteer requirement for local teams:
Each full RTO team that has 6 or more runners residing within 30 miles of a point along the course needs to provide 2 volunteers. Ultra teams that have 3 or more runners residing within 30 miles of a point along the course need to provide 1 volunteer.
There is an online sign up process for volunteers. Volunteers need to use that system to sign up for their assignment. The online module will be ready for use by approximately March 1. Stay tuned for announcements.
Please have your volunteers register through the online process by April 15 OR pay a fee of $90 per volunteer by April 15. We will use those monies to obtain volunteers if necessary, to spoil the volunteers who help us put on the event, and to make additional contributions to charities.
ADDITIONAL FEE: Teams who fail to meet their volunteer requirement by the April 15 deadline will be subject to an additional one-time penalty of $150. Each year we have dozens of teams who do not meet their volunteer requirements until days before the event. This makes putting on the event more challenging than necessary.
Register Volunteers
Pay Volunteer Fees
---
Critical Rules
Critical Rules you need to know before the race
---
Thank you in advance for your consideration and cooperation.